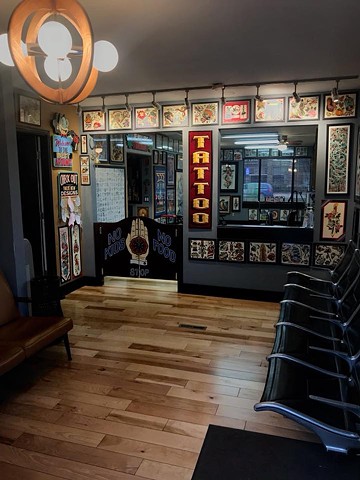 !!!COVID UPDATE!!!
With our friend corona virus in town, we are having to do things a bit different here at Devotion Tattoo. Please bare with us while we all adjust to this strange world we are living in. In an effort to keep the numbers down in our lobby, walk-ins in the traditional sense are being put on hold for the time being and we are tattooing by appointment only. YOU CAN STILL GET TATTOOED ON SHORT NOTICE when time permits. Please call the shop before just walking in. Let us know what it is you are wanting to get tattooed and we will get you in ASAP. Keep in mind that we are still playing catch up after being off for over two months, so please be patient with us. We are all doing the best we can navigating this new landscape together. You can email any ideas to devotionboise@gmail.com or call us any time at 208-336-1608


At Devotion Tattoo we offer world class tattooing in a friendly, clean environment. We specialize in all styles of tattooing with a stronghold in traditional American and Japanese tattoos. We love all tattoos large or small.
ALL APPOINTMENTS REQUIRE A $50 NON REFUNDABLE DEPOSIT. This deposit goes towards the cost of your tattoo. We require 48 hour notice if you need to reschedule your appointment for any reason.
!!!!!!!WE LOVE WALK-INS!!!!!!
Keep in mind walk-ins are first come first serve.
We will tattoo 16+ with parental consent depending on what the tattoo is and where it's at on the body. Both the minor and the parent must have state issued photo ID with matching last names. NO EXCEPTIONS.
WE ARE OPEN 7 DAYS A WEEK
TATTOO HOURS
Sunday 11-6
Monday 11-6
Tuesday 11-6
Wednesday 11-6
Thursday 11-6
Friday 11-6
Saturday 11-6
1510 Broadway Ave, Boise, ID
208-336-1608