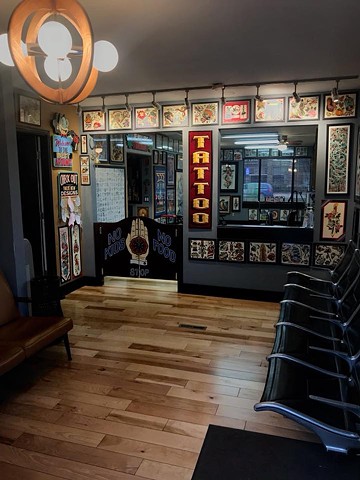 At Devotion Tattoo we offer world class tattooing in a friendly, clean environment. We specialize in all styles of tattooing with a stronghold in traditional American and Japanese tattoos. Walk-Ins welcome! It seems like there are a lot of shops around lately that do not like to offer walk-ins. They require you to make an appointment to make a consultation...then make a separate appointment to get a tattoo!!! We feel like that is insane. We love all tattoos large or small.
ALL APPOINTMENTS REQUIRE A $50 NON REFUNDABLE DEPOSIT. This deposit goes towards the cost of your tattoo. We require 48 hour notice if you need to reschedule your appointment for any reason.
!!!!!!!WE LOVE WALK-INS!!!!!!
Keep in mind walk-ins are first come first serve.
We will tattoo 16+ with parental consent depending on what the tattoo is and where it's at on the body. Both the minor and the parent must have state issued photo ID with matching last names. NO EXCEPTIONS.
WE ARE OPEN 7 DAYS A WEEK
TATTOO HOURS
Sunday 11-7
Monday 11-7
Tuesday 11-6
Wednesday 11-6
Thursday 11-6
Friday 11-7
Saturday 11-7
1510 Broadway Ave, Boise, ID
208-336-1608